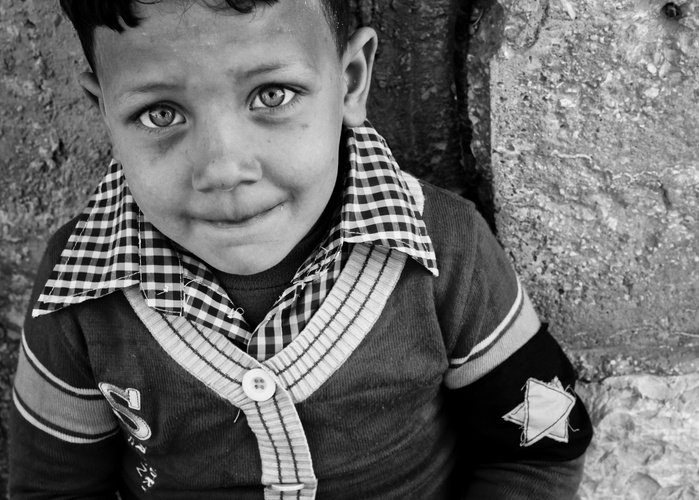 GAZAW
"A rose by any other name would smell as sweet," only this time my book is not about a rose, and the smell of that represented, is anything but sweet.
I like to think my images speak for themselves, but feel the focus of my project may be misconstrued and so, for the sake of clarity, I would like to introduce GAZAW: an amalgamation of two words and two worlds, Gaza and the Warsaw Ghettos.
I seek to promote peace through my images, hoping to provoke the viewer primarily to question, if not to act, in order to bring differing perspectives closer.
Whilst working for the Human Rights Foundation and Oslo freedom Forum, I had the privilege of hearing a speech delivered by Dr. Izzeldin Abuelaish, author of 'I shall not hate: A Gaza doctor's Journey on the road to peace and human dignity.' He spoke about losing his 3 daughters and niece in a strike by Israeli forces, and how more than ever, he believes that the only way forward is peace and reconciliation. This ignominious speech was the genesis of my idea for 'Gazaw.'
Various aspects of life in Gaza are represented here, with my principle focus a conceptual juxtaposition of Gaza and the Warsaw Ghettos – corresponding in nature but not in extent – in order to trigger in the viewer's mind a blur that resonates as familiar. History has all too often proved that this apparent blur or chaos, when examined closer, follows a pattern, and I wanted to explore that pattern within the isolated context of the Warsaw Ghetto.
Palestinian parents allowed me to photograph their children wearing an armband bearing the star of David against the stark background of a wall to illustrate the classification and subjugation of Palestinians by a people who were History's victims in the Warsaw Ghettos.
Once in Gaza, the realisation of the depth of potential my project held became ever more evident and my initial vision grew to include other aspects and ideas reminiscent of war past, yet here present, such as a school which had been bombed in a previous conflict. I changed only the location of the students from their actual classroom to the one filled with rubble and shrapnel; the ghostly mood a result of our inertia in the face of their anticipation. The victims and the
perpetrators.
My journey and good fortune led me inside the Rafah tunnels, "the lungs of Gaza," to document the same tunnels that have been compared to those used by Jews to smuggle consumer goods and medical supplies into the Ghetto from the "Aryan side" and the players who operate within and around them.
The more I shot, the more eager I was to shoot – each photo a piece of the unsolved puzzle that was growing before my eyes, Gazaw.
I hope that you who are reading these words will look at my images and see Gaza, but more importantly that you will look beyond, to the promotion of peace and the putting aside of differences.
Luc